"The Truth May be Your Last Cable"
"Darwin Cables has yet again shown that outstanding products appear from unexpected places. ...the Darwin Truth silver cable is the finest interconnect I have had in my system. From the very first recordings cued up, The Truth created an enormous soundstage—the largest I have heard from any cable, regardless of price, geometry, or conductor type. It rendered the sublime Columbia SACD recording of Stravinsky Conducts Stravinsky: The Right Of Spring as a massive wall of sound that befitted the epic drama of the piece. To say I was glued to my chair would be an understatement. Yes, the piece is also filled with nuance, and The Truth was able to transition from bombast to delicacy without a hitch. ...an absolutely seamless, delicate top end, and a buttery, liquid midrange. With Rodrigo's Concerto De Aranjuez, The Truth captured the complexity and layers of the strings, the woody overtones of the guitar, and the varying degrees of hall ambience on each recording. Stunning, to say the least. The Truth may be your last cable." 
— Andre Marc, Audio/Video Revolution
"Now I Can Stop Searching"
"When do you stop searching for cables and equipment? When they sound real! Now, I can stop searching. … the music was honest, more dynamic and real—closer perhaps to being at a small private session. After going back to the Nordost Heimdall I then knew that these Darwin Truth Cables did indeed present all frequency ranges better and in particular I noticed cymbals were clear and not in the background so much. Percussion is so much better. The attack of a piano is closer to the real thing. In 'Featuring Norah Jones,' track 4 with Willie Nelson... the harmonica and cymbals were effortless. With my previous cables, another song with a guitar had a droning sound—that drone sound went away with the Truth. Clear natural sound. I think you captured it accurately on your web site! Thank you!" —Steven Williams
"Listenability is Night & Day!"
"WOW!—dynamics came to life! ...listenability is night and day. Your cables have no grain and I can listen to them all day. The Nordost Heimdalls got very harsh when pushed with complex and loud passages. The Darwin Truth are wonderful and delicate. After I set aside a bit of money, I'll replace the Audioquest Colorados still between my preamp and amp with another pair of Darwin Truths. Really nice cables!" —Tony Roide, Phoenix
"The Last IC's I Will Ever Buy"
"I'm a man of few words but I have to say something about the Darwin Truth interconnects I have owned since June. Someone said of your cables, 'They are the last IC's I will ever buy.' That's where I'm at. But I would like to buy a couple of Darwin Truth digital coax cables!" —C. Bailey, France
"The Darwin Truth is Amazing"
"The Darwin Truth (RCA) Cable is amazing in my system. I am very happy!"
—Bill Milligan, Evergreen, CO
"Truth XLR's Sound Great in My System!"
"The Darwin Truth XLR cables truly sound great in my system, thanks for making such a good cable! I am looking forward to owning your speaker cables!"  — Kenneth Lam, Hong Kong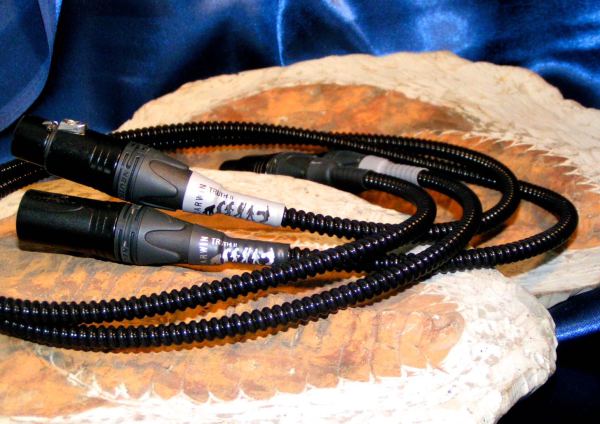 Featured in Recording Studios
'I've never heard anything like this!"
"The Truth II XLRs sound transparent, detailed, yet smooth and relaxed. Transients are quick and impactful. Great emotion is coming through. Friday night after watching "Love and Mercy" (fantastic film, by the way) my wife and I listened to "Pet Sounds", followed by a few different cuts from pop albums. She kept remarking 'I've never heard anything like this! It's so detailed! You can hear everything!' So she seems to be a fan, too ;-)"  —Evan Patton
"These Cables Are Not Moving"
"Tony at Darwin is great to work with. Very fast shipper. I have had the Truth interconnects in my system for a few days now and it was apparent from the first listen that a major improvement in sound was taking place. Darwin interconnects might be he best price to performance cables on the market. Also, the (special build) 15 ft Darwin Truth XLR cables are simply outstanding. These cables are connecting my DAC to my preamp. I can't believe I have been missing this sound for so long. Without any break in they sound so much better than my old cables. Can't wait to hear them when fully broken in. The music now has more focus with better resolution. I especially like how much better the music sounds at louder volumes. All frequencies from top to bottom sound better. These cables definitely bring out the full potential of your components. As long as I live where I am these cables are not moving. Thanks!"
—Neal Schrenk, Franklin, TN (repeat customer)

"I love my new Darwin Phono Cables"
"I Love my new Darwin Truth phono cables. My already quiet tube system is now considerably quieter. The sound is bigger, fuller, and yet more nuanced. I'm listening to a Brahms sonata for cello and piano as I write; haven't words for how right it sounds. Thanks for a wonderful upgrade at a give-away price." —Jeffery Knorr, New York
"Such an obvious difference" 
"After about an hour of letting the Darwin Truth IC break in, I couldn't stand it anymore and I had to have a listen. It mopped the floor with my top of the line Cardas, a $3,000 cable. It's the first time I have heard an IC make such an obvious difference. The bass… the detail… the top end…"
—B. Talton, West Virginia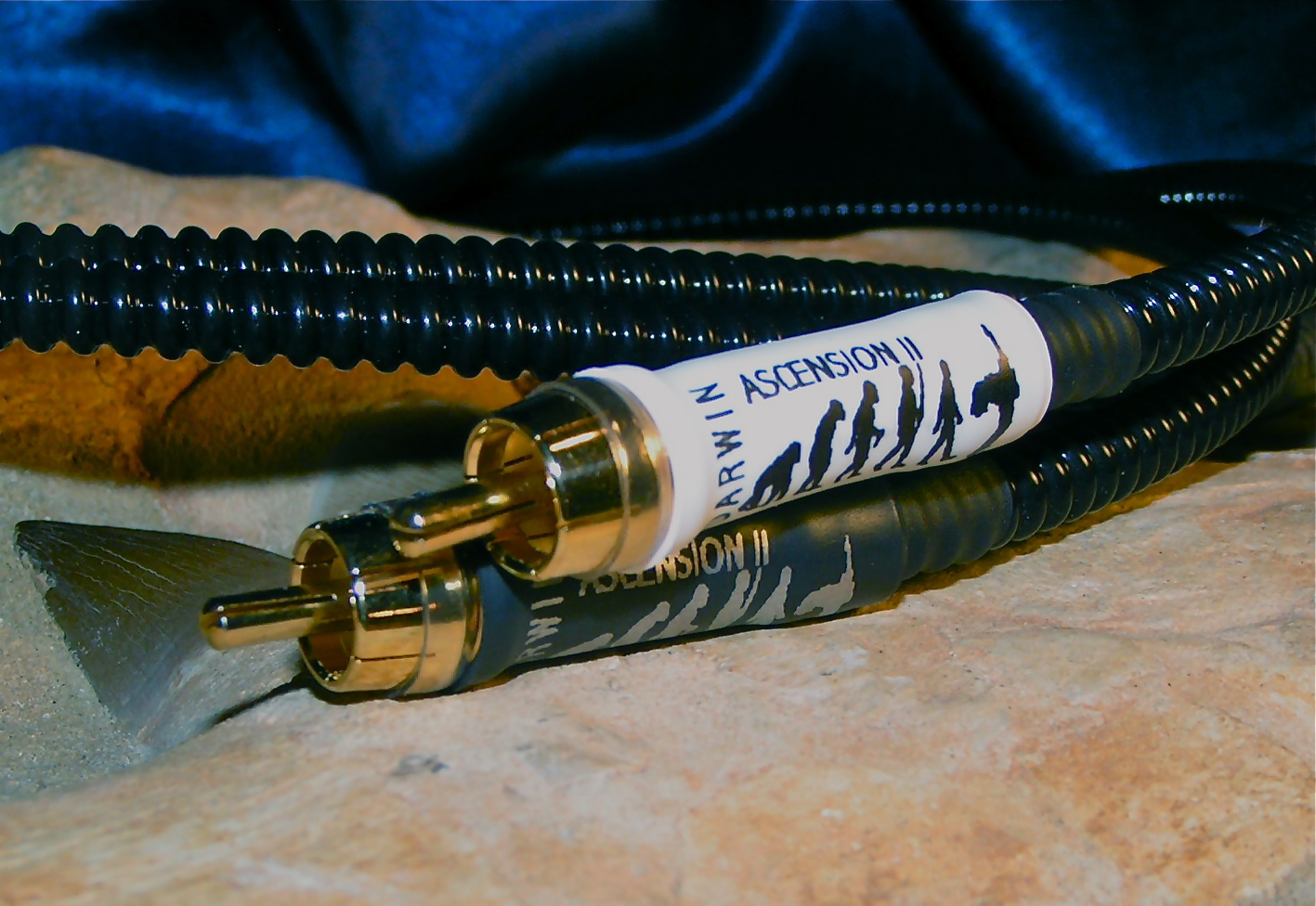 "Never Heard Music This Good!"
"(The Darwin Ascension) is an outstanding cable in every way! Have never heard music sound this good ... on my system ... or on anyone else's for that matter. I continue to be amazed at the dedication you and Bill have put into the design of your amazingly good cables. Not only were you on the right track all along ... you went much further down that track than anybody else ... at least, anybody else I know of. You and Bill took the "true and correct" principles of cable design out as far as they could go. While everybody else is trying to "maximize performance" with inherently flawed cable design, you two worked hard to maximize performance according to correct cable design. This, Tony, is quite simply cable engineering at its finest. I believe this expression captures the essence of what you and Bill have put into your groundbreaking cable design… You hit it out of the park with this one." —Brent Tuthill, North Carolina
Upended Down Under
"The Darwin Ascension and Ascension Plus cables arrived. Words fail me. All the reviews—what they said—all true! I have only had them for four hours and I am a stunned mullet. I cannot believe what I am hearing. I am drooling, thinking about how they will sound in another 100 hours. I bow down to the Kings of Cables! I will be forever be in your debt. I cannot see me ever buying another cable." —Cliff Shannon, Australia
"Nothing Better at 10 Times The Price"
"Excellent product with tremendous attention to detail which is as advertised. I have spent over 10 times as much for balanced interconnects which have no where near the performance of the Ascension Plus balanced cables. Too much hype on any website but this is the real deal. Get in before this company goes viral as the cables are not jewelry, as other high end cables, but what an amazing change in the content of music (which is either filtered out or simply not reproduced by other cable designs). I have only an interest in sound, not specifications, and no other cable I have heard in 30 years in this hobby has been this unique and "game changing"."—Manjeet Mann, Canada
"Better than Nordost Tyre, Valhalla"
"Better than the Nordost Tyre and Nordost Valhalla. There's just more music from the Darwin Ascension Balanced Cables"— Joe Rosado
"Ascensions are Substantially Superior"
"The conventional wisdom is that the price of quality is exponential, i.e., as quality increases, price increases exponentially. The brand name manufacturers have applied this convention to produce high quality components at high or very high prices. When a product is introduced into the market with a price increase that is proportional to the quality increase, the knowledgeable buyer perceives the product to be a bargain. So what happens when a new, superior product is introduced at a price that is less than the prices of competing products? The knowledgeable buyer might consider this to be an outstanding bargain (a "steal" in the vernacular). And what happens when the quality of the new product is substantially superior to competing products but offered at a small fraction of the prices of competing products? The knowledgeable buyer might express skepticism and call this "unbelievable". Here is my personal experience with the Darwin Ascension speaker cables and Darwin Ascension Plus interconnects. (Unlike typical cable construction) the thick, heavy wraps of shielding and insulation are gone. The dinge and grunge and murkiness and sludge are gone. The brightness and metallic edge are gone. These are the cleanest, clearest, fastest, and most musical cables that it has ever been our pleasure to experience. The Darwin Ascension and Ascension Plus series of cables deliver clarity without brightness and speed without a metallic edge. Our plan is to replace all speaker and IC cables in our system with Darwin Ascension family of cables. We are about halfway to our goal and have been discreetly selling the substantially higher priced cables in our system to achieve our goal."
—Paul Schaller, Arizona
                  "More of Everything—Much More!"
"The Darwin Ascension Plus interconnects have arrived, Tony. "More of everything," you wrote; I would say much more. So far I've listened to a densely scored Bruckner symphony, some typically colorful, light textured Ravel, and some Schumann solo piano stuff, all on familiar recordings; having a swell time. The balance is perfect; nothing sticks out, obscuring other things. My speakers are Focal Diablo Utopias, and the shimmer coming from those beryllium tweeters is appropriately sweet. I'm tickled at their elegant, minimalist look. Oh, and I can keep the volume down without losing much; essential for New York apartment living. (And a follow-up…) Been too busy enjoying music to write; but then again the sound continues to get better, and to astound me. I owe you and Bill a debt of gratitude for all the enjoyment the Ascension + is delivering. I'll be in touch regarding my next cable upgrade. (and another update) I have, for the first time in the past year since overhauling my system, just been listening and enjoying the music, not listening critically to guess where the next weak link is. What a relief! I have a Darwin Silver IC from CD to preamplifier and the Darwin Ascension IC from preamp to amp. The entire spectrum sounds tight, cohesive, coherent. I used to hear gaps that no longer exist. I would think, 'Why did the engineer or producer mix that so weak or so overbearing?' I just don't hear that now. Low end is tighter, which is important with the Magneplanars. It seems that the Darwin Ascension helps blend the upper sub frequency with the lower mid so I can get what I call a floor that is still musical and helpful on some tunes. The high end is clear and mellow. The mids are distinct and open. The soundstage is very wide. The musicians appear to be 6 ft tall, standing just out of each others way, and playing clearly at a volume appropriate for my room. I think that the silver wire is providing the finesse that makes the overall sound pleasing to the ear." —Jeff Knauer, New York
"Recordings all Sound Like Hi-Rez!"
"I have been an audiophile for over 35 years now and have spent more than the cost of a nice home on audio. First, let me point out the one thing many even seasoned audiophiles overlook is the system cables. I have seen $50k worth of electronics and maybe $1500 worth of cables. Very unsatisfying. I recently tried the new Synergistic Element Copper cables ($1200), then moved on to MIT HD23 series $1,000). Pretty good—until I tried the Darwin Ascension Plus IC. The Darwin Ascension Plus made the previously mentioned cables sound broken. This Ascension Plus makes all my recordings sound like they are Hi-Rez records. With a (no risk) 30 day trial people need to hear these cables."
— Joe Letteri, Former audio store owner
"I seriously doubt ANYONE has ever heard a finer musical sound in their homes!"
"The combination (of my system) with your Darwin Ascension Cables is VERY synergistic… I seriously doubt ANYONE has ever heard a finer musical sound in their homes, live or whatever. I have a son who's a part-time paid musician who's having a difficult time believing reproduced music can possibly sound this good. He says it it now almost better than live sounding--and how can that be? My IC buying and speaker cable buying are done for life. I may be the luckiest listener on the face of this earth to have put this system together and get to hear this outrageously great sound on a daily basis. Thank you for your part in this, Tony. And thank God almighty for the good fortune to get this opportunity."
—Bob Stark, IL
"Truly a Reference Product for an Affordable Price!"
"I am very happy with the Darwin Ascension interconnects. Before I used Nordost Tyr's ($2400), which I thought were excellent. But your original Darwin Silver Cables are their equal (for way less money). Your Darwin Ascensions are a big step up (but also for way less money). The top end is very natural sounding. The step up is in the added detail and bass performance. Truly a reference product for an affordable price! My suggestion to my friends, and I tell everyone who will listen—if you like Nordost, buy Darwin and save yourself money to spend on other equipment. You'll be shocked at the performance. One other note: They do require lots of break in time. At least 150 hours. After that, sit back and enjoy." —Bob Arndt
"The Perfect Interconnect!"
"To understand why this cable is so effective, you have to look at the basic design features - silver conductor, air dielectric, and low mass ends. This kind of simplicity of design is just the opposite of most high end cables. But this cable makes it clear - perfecting a simple design works much better than those other, far more complicated designs. The trick is in preserving signal integrity over the entire length of the cable. The Darwin Ascension does that better than any other interconnect I have ever had in my system. Period." 
"Just a word about the importance of properly breaking in this cable. Like most silver cables, it takes quite a lot longer than copper based cables. I would say 2 to 3 times as long to reach the full break in point. I broke the Ascension in for 200 hours and found it to be about right. If you assume the Ascension is fully broken in after 50 or 100 hours, it has quite a bit farther to go before reaching full performance capability. And what is that full performance capability like? Like everything you've ever wanted in an interconnect ... 3-dimensional sound stage, superb inner detail within that sound stage, terrific localization, full, rich tonality, realistic attacks, realist decays, amazing timbre ... the list goes on and on. All the things you've ever wanted to hear - are there with the Darwin Ascension interconnect. AND in perfect balance! How many interconnects have been in and out of my system in my quest for the perfect interconnect? Far more than I can possibly remember since getting into audio. All the frustration with overhyped products, costs way out of line with product quality, one disappointment after another … on and on ... and on. All of that ends when you put a Darwin Ascension cable into your system like I did in mine. If you have been searching for "realism" when it comes to listening to music, the Ascension delivers that realism like no other cable I have ever heard. And for me, this is the perfect way to describe this outstanding cable design - truly exceptional realism. It is said that all cables have weaknesses. Really? Can't find any with the Ascension. Everything you want is there. And everything you don't want isn't there. If money was no object, would you still own this? My answer to that question is "YES"! And I would feel really good about not spending several times the cost of the Ascension for markedly less quality. Just getting off the cable roller coaster is reason enough to own the Darwin Ascension. At least it was for me. My long search for the perfect interconnect is over. Listening to music has taken on a whole new sense of satisfaction, using this very special cable."
— Budmoe, Audiogon review

"World-Class Accuracy!"
"The Darwin Ascension Plus excelled in bringing life to a dark sounding Kenwood 5020 AM/FM tuner. This implies the cable may have a rise in its HF response, which would make it a horrible match for my Micromega CD player. Well, so much for reading ahead… It also meshes up nicely with the Micromega Stage 2 CD player! It seems to have a consistent soothing element to its presentation, which bothers me as I don't know what about the sound makes it soothing. This is an attribute often associated with a sonic shortfall or a sonic signature but for the life of me I cannot identify a sonic signature other than "not irritating... This cable was not the tone control most cables are… YET…
"I found it to be the best cable when used with a dark closed in tuner AND with a bright somewhat clinical CD player. This doesn't make sense, but deal with it—I am trying to!"

Darwin Ascension attributes include:
• HF/ Mid/ LF tonal balance- World Class
• HF/ Mid/ LF tonal accuracy and Timber- World Class
• Depth and Width- Changes with recording venue and recording methodology. Width may be an area where this cable is merely very good. Depth is great.
• This was the only cable that told me about recording equipment (microphones, edit points, etc.) indicating it is an accuracy lover's cable.
• Detail presentation- It seems to be very natural, doesn't draw attention to itself while sounding musically accurate

"Detail is not an item of discussion. It just simply is there in abundance. The Darwin Ascension Plus seems to integrate into a system rather than being a tone control that imposes its will upon the system. The break-in process was essentially the way it was described by you verbally and on the website. (I am very surprised by truth in advertising on any level when dealing with audiophile cable sales.) This was an amazing purchase. It excelled in all areas and kind of breaks the mold physically and sonically. When I put in the CD Uncommon Ritual (Edgar Meyer, Bela Fleck and Mike Marshall) I was astonished to find them in my dedicated listening room. For the first time my system sounded like there were artists playing banjos, mandolins, and acoustic bass (plucked and bowed) in my room with me instead of a HIFI simulation. This accessory always allowed me to be emotionally involved in the music while providing world-class accuracy. For the time being this is the best cable I haven't heard."—John Vrooman, naval engineer
 
"It is extraordinary!"
"I have now burned in my Darwin Ascension cable for about 200 hours. It is extraordinary!"
—Gudmundur Svavarsson, Keflavik, Iceland
"Ascensions are a Big Step Up

"
"I got a pair of Darwin Ascensions and it's no exaggeration to say they are a big step up from the original Darwin Silver ICs. I know this because I have two pair already. The coherence of the Ascensions is outstanding as are all the end results: detail, extension, ambience, venue boundaries (or mixing tricks). I can clearly hear the bassist on Brubeck's "Take Five" let go of a note and hear it splinter before he grabs it back and just how quickly and repeatedly the drummer strikes and closes in on the cymbals. It's more rat-ta-tat than shimmer and it's the first time I can hear it. The same goes for Sarah Jaroosz"s "Build Me Up From Bones". What use to be musical "smoke" in the background is very clearly defined playing (and what playing it is). Her vocal accompaniment follows her more than I previously thought (could hear) and the dynamics are a big step up as a result. If you're on the fence about these cables, sell something that's lying around (it's what I did) or eat less (all us audiophiles can stand to lose a few) and get a pair. These are a remarkable pair of ICs."
—Nonuse, Audiogon 3/20/15
"Your Cables Brought Me Closer to the Music"
"I never believed that cables could make a noticeable difference to sound quality. How wrong I was. The difference was profound. It was as if an invisible veil had been suddenly yanked away. Sound was more palpable, more real, more there. Your cables brought me closer to the music. Thank you." —TT, customer (Ascension IC)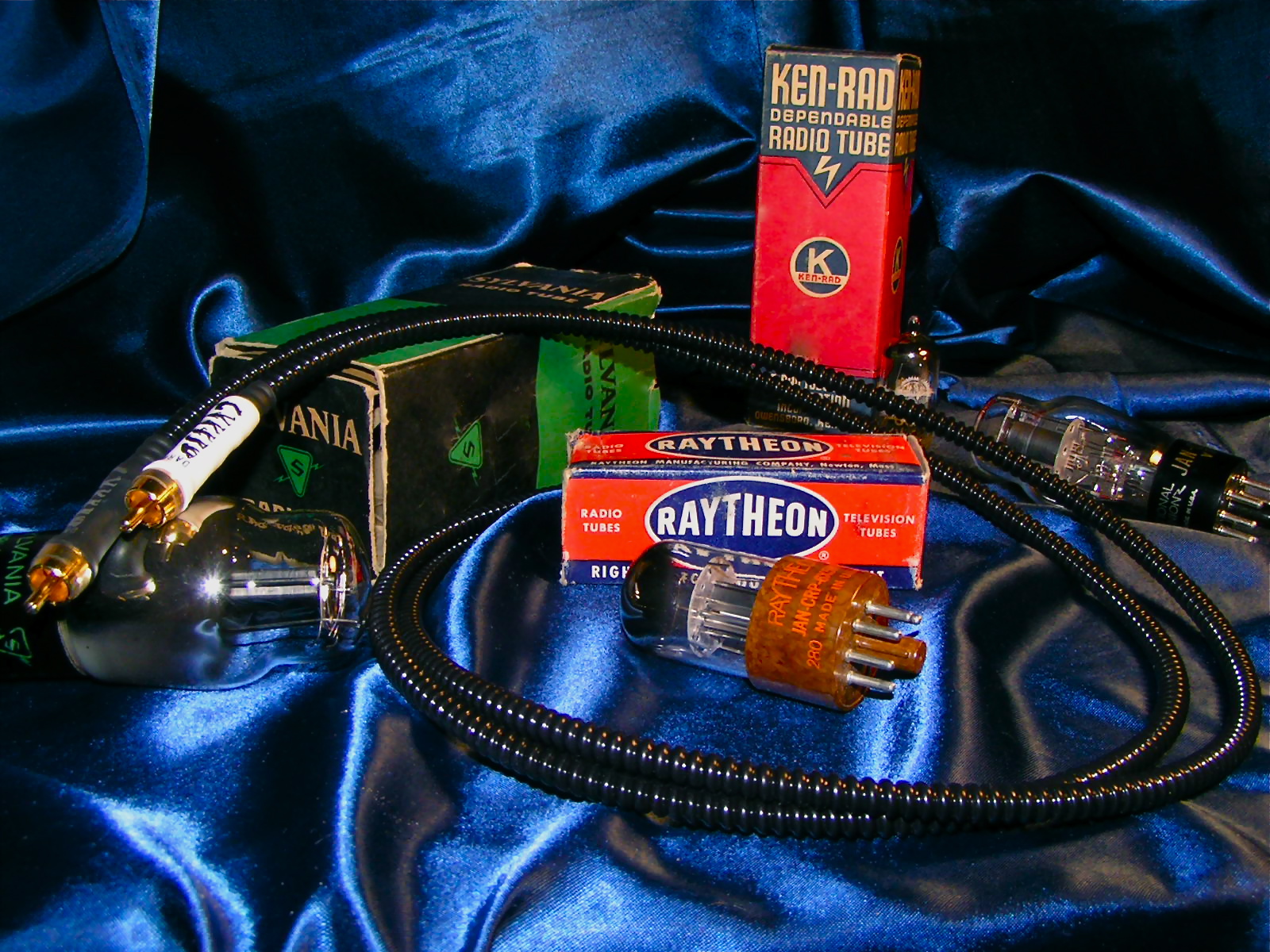 "A Revelation"
"The Ascension proved to be a real revelation. It was pretty obvious that all the tweaking that the folks at Darwin had done to improve the performance of the Darwin Silver paid off. What became a recurring theme in my listening sessions was the enormous size of the soundstage, regardless of musical genre. Another characteristic of the Ascension was how much recorded detail it allowed to come through the speakers, but not at the expense of body, flow, and coherence. The Ascension also improved with time from an already impressive start. More nuances of various recordings came through, like the acoustic guitar strumming in "Sour Girl" from the Stone Temple Pilots classic No.4 album, from 2000.. The album's closing epic track, "Atlanta" gained a sense of scale and drama that approached what I heard live in a recent performance by Scott Weiland, the band's on again, off again lead singer. I ran through a variety of more off-beat favorites to see if there was anything that could trip up the Ascension, but to no avail. It remained coherent and drew me into the music regardless of genre. In all cases, the music flowed with liquid ease, and that same coherence, despite some rhythmically challenging recordings. The balance of the cable was spot on, and never had me fidgeting or feeling something was not right. When audiophiles talk about a cable "getting out of the way" of the music, this is what they mean. (Darwin Cable Company) set out to make a cable that sonically competed with the very best, regardless of price point. Making a cable that had any compromises was not the game plan. I believe they have achieved their goal... Count me as a believer in the Darwin philosophy... start with solid engineering theory, trial and error, and ultimately listening to finalize your product. Hats off to the Darwin Cable Company for offering relief from audiophile cable pricing sticker shock. Highly recommended." —Andre Marc, Audio/Video Revolution
"The Darwins Blew Away the Far More Expensive Cables."
"I am not a golden ear or a professional reviewer. I have, however, been upgrading my system since 1967 and have attended hundreds of concerts, ranging from being a regular at the Fillmore East and a long time subscriber to the New York Philharmonic. I like what I like and I love my Darwin Ascension interconnects, which have been in my system for about four weeks. They are truly outstanding and an outright steal at double their price. I visited my brother's home and listened to Darwin Silver interconnects which he was auditioning in place of highly regard $1300 per pair Brand XYZ interconnects. The Darwins simply blew away the far more expensive cables. There was simply no comparison. I will not mention the make of the other cables, for I come to praise Darwin and not to bury XYZ. The Darwins simply transformed his B&W speakers, raising them to a level that I thought was unobtainable, bringing them closer to my Wilson Watt-Puppy 5.1s than to their former state. I was awe-struck and decided on the spot that I was going to replace my $600 per pair XYZ interconnects. As for my system, it was, IMHO, pretty good before I swapped the Darwin Ascensions for their predecessor cables. Everyone of my friends and relatives, audiophiles and civilians, as well, were already bowled over by my rig. In addition to the Wilsons, I own, among other things, all Rogue amplification which I think sounds far superior to far more expensive equipment I have listened to. I would describe the Darwin Ascension interconnects as being incredibly coherent. They relay whatever is recorded upon the vinyl or digital recordings that I listen to. The air around every instrument and every note is palpable. The soundstage is wider and deeper than I have ever experienced in my system. Because notes and chords are distinct, rather than slurred or blaring, music takes on a clarity that I had never before experienced in my system. It almost seems as if the timing of recordings is altered, allowing the music to flow in a more coherent progression. I hear new layers of sounds in recordings that I have listened to hundreds of times over many decades. Music is both more dynamic and subtle across the entire frequency spectrum. Everything I listen to sounds great from chamber music to rock, played at near ear bleed levels. In addition, the sound of CDs is improved when played over the Darwin Ascension cables, bringing them closer to vinyl. These cables bring to life and fully illustrate the transformative nature, reviewers and manufacturers wax poetic over, that great cables can have upon an audio system. These cables have afforded a far greater bang for the buck improvement in my audio system than any other change or addition I can think of."
—J.Gorinsky, New York
Positive Feedback Loves Darwin Cables!
DEC 2013: POSITIVE FEEDBACK review of Rogue Audio's ST-100 Amplifier… "Special mention should be made of Darwin Cables, which Mark O'Brien recommended to me a while back. I used the Darwin Ascension extensively during the review. It is an all silver interconnect made in the USA, and available directly from the Darwin Cable website. It is a terrific sounding IC that was a great match for the ST-100."

"You guys Have Something To Be Proud of"
"I've been letting the system run with the Darwin Ascensions in place. Very nice! And your literature is right, they don't require a whole lot of time to sound good. They're doing a fabulous job. You guys have something to be proud of." —Mike DeRoche, Canada
"It's Fantastic!"
"I just received the Ascension Cable. It's fantastic!"
—Kisuh Sung, Hong Kong
"From Giant Killer to Giant"
"Quite few readers pointed me toward Bill Magerman and Tony Bender's Darwin Cable Company. It might have been easy for some, having developed something like the Darwin Silver interconnect, to simply rest on that achievement—a cable that most customers agree outperforms the expensive big boys on the block. But Bill Magerman and Tony Bender are not wired that way. It is not uncommon for them to receive phone calls from enthused customers after the sale, often within hours of the cable's arrival. "When they tell us that our cable has re-energized their appreciation for music, that's huge for us," Tony said. "It comes right down to the core of what this is all about—finding some beauty and joy in life. To have that kind of impact on a music lover's experience is immensely satisfying."
—Mono and Stereo Ultra High End Audio Magazine 

"My Old Cables Should be Melted down for Scrap!"
"I'm blown away. I have good equipment. I listen to good music. But, I've never heard the potential of my components and recordings to such a high level before. These Darwin Ascension cables let me hear how good it all is. What am I hearing? First, clarity. I'm hearing the lyrics, voices and instruments, not a mishmash of sound. Each instrument of the music fits nicely with the others, as it should. Yet, there is a quality which I can only describe as "presence". Each component piece of the ensemble, whether a voice, guitar, trumpet, xylophone, whatever, exists in its own space and is distinct and accurate. The sound is "up front", but I hear these instruments emerge from the back and sides, where they are located within the recording space. The stage is wide and deep. Talking about depth, I've never been drawn into the music like this. I can focus on a part of the music, or the whole. It doesn't matter: I'm enjoying myself. Shimmering highs, taut and detailed bass, midrange with authority, or subtlety. Decay. Accuracy. It's all there. I can play the stereo louder. There is no breakup, distortion or harshness as the music gets louder... I AM HEARING HOW GOOD MY COMPONENTS AND TUBES ARE! ...And, the Darwin Ascensions bring out the beauty of every recording I listen to. Jeez, It's as if I had earmuffs on for all these years. My old cables should be melted down for scrap!"
—Joel G, New York

"The Ascensions Were the Best to My Ear, Bar None"
"Immediately, I was impressed by both clarity and the non-loss of bass throughout the music. I will not compare The Darwin Ascension to other interconnects that I have owned in the respect that the Ascensions were the best to my ear bar none… the sound of the Ascensions was so dramatic I could not believe what I was hearing. After I ran speaker cable to my outdoor B&W speakers, my son said he had never heard outdoor speakers sound that good. "Those guys know what they are doing," he said. Someday, I may have to downsize, but the Darwin Ascensions will remain. It is great to know that success comes to those who think outside the box. This Ascension cable gets my highest recommendation." —Jack Hrvatin

"A Noticeable Improvement"
"The Darwin Ascension balanced cables are excellent—a noticeable improvement. This kind of change is something people talk about all the time regarding wires, cables and hardware. I believe most of these are incremental in some way or another. The Darwin Ascension cables have changed the way music comes from the speakers and thereby added excitement and musical enjoyment." —Henry Nuremberg

"Amazing Darwin Ascension Cables!"
"These Darwin Ascension Plus XLR cables are REALLY sounding good! They have 50 hours and they are opening up nicely! Bass is great and soundstage is deep. I can't wait to get more hours on them. They really seem to benefit from burn in. On another note, the Darwin Ascension Plus balanced digital cable is amazing!"—Charles Black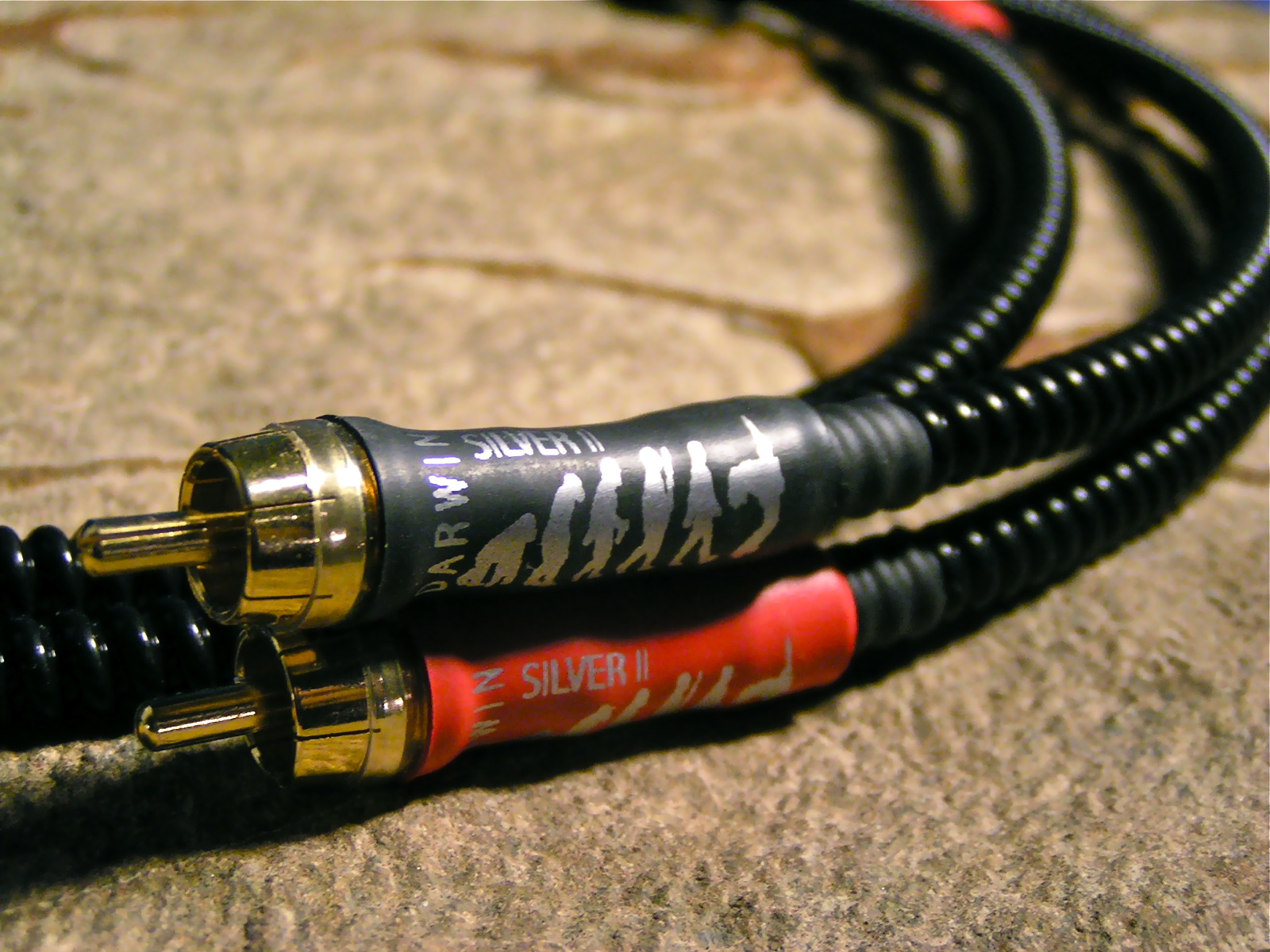 Topped Nordost
"I preferred the Darwins far more than the Nordosts (Nordost SPM $1100 and Quattro Fils $1600). The Darwins were fuller, reached DEEEEPer into the lower frequencies, and had better detail than the Nordosts… better in the sense that the detail they revealed allowed me to see both the big and small musical landscape in a way that was effortless and smooth. …The Darwins never failed to deliver a rich, in-the-room sound. The soundstage was no wider than the Nordosts but it was deeper, the imaging more realistically precise."
—Darosenb, Audiogon Reviewer
Stereo Mojo: "Impressed!"
"The Darwin literally leaps out of the way and allows the recording to do what it is supposed to do… I was impressed with their neutral presentation. The Darwins are designed to present the truth... Female vocals are so feminine you leave the room to make sure your bed is made so it doesn't offend your lover. Male vocals make you want to grab your bat and glove to join the guys at the high school for a pick-up game."
—Mike Peskin, StereoMojo Reviewer (RIP, MIke) 
 "The Most Positive Impact I've Heard..."
"I'll save you all a lot of time by stating in front that adding 3 feet of this wire to my system made the most positive impact I've ever heard. From wire. With the Darwin Cables, the soundstage is more "real" and the imaging far clearer, "pinpoint". The bass deserves it's own paragraph. The addition of the Darwins immediately made the deep bass amazingly articulate in tone and texture, by far the best I've ever heard..."

—Amioutaline, Audio Asylum Reviewer
Stereo Mojo 2nd Opinion: "Enchanting!"
"Musical details jumped out at me from the sonic canvas spread before my ears. On acoustic jazz or light classical, the experience was enchanting. Again, no smearing or loss of resolution from the cables..."
—Dr. John Richardson, Stereo MoJo Reviewer
"You Can't Ask For More!"
"What you've got here is the solution for what's nagged audiophiles for as long as I can remember. Your Darwin Silver ICs simply get out of the way of the music like no other cable I've tried. You have delivered what we wanted, a cable that supersedes all performance parameters and simply delivers the goods. It's like my SACD player is directly connected to my amp. Soundstage is now permanently extended beyond my speakers. Height and width are fully fleshed out and equal in tone, timbre and impact (one of the strangest and most welcome results). The old cliche of hearing more is literally experienced on every disc I've tried. Intelligibility is through the roof. I've always had a hard time following lyrics and now I know why. COHERENCE is the name of the game here. With it comes focus and that see-through quality. Immediacy becomes the norm with good recordings and naturalism with great ones. Micro dynamics, subtle interplay and nuance are the best I've heard. Textures from coarse to fine, shadings of tone and ambience excel here. Macro dynamics can and do startle on old, well known recordings. You can't ask for more. My speakers only go down to 40Hz before dropping off and yet it seems like I have an extra driver down there, somewhere. Something had to responsible for that deep, taut bass I'm getting. Not one note, but nuanced bass. Mids are as natural as they come, beguiling actually. Highs float and shimmer effortlessly on the air. Notes have that beginning edge, body, and trailing off that make them seem all the more real. Thanks to your cables I'm now experiencing my "moments of reverie" again, getting lost in the music, letting it take me to, wherever. I can't think of higher praise than the big grin on my face. These cables let you concentrate on the music. To all I say, "Do yourselves a favor, buy a pair, and be done with the cable side of this hobby". —Tim Patchett, CA
"Highly Recommended!"
"There simply was nothing missing. I thought to myself, that down the road, after weeks of listening, I would be able to identify some weaknesses, or some deviation from neutrality that would make itself apparent with critical listening. But nothing of the sort happened. The Darwins remained true to my initial impression. Buttery smooth highs and mids, and amazingly good at fleshing out voices and instruments. The proof is in the listening ultimately, and the Darwin Silver interconnects really do sound marvelous….they produce a clear, open soundstage, with a seductive midrange, and over all neutral presentation with no obvious omissions. I highly recommend considering Darwin Cable silver interconnects for your cable needs. I can't imagine astute listeners not being impressed."—Andre Marc, AV Review
"Amazing! I'm Listening More!"
"First I have to say that I was very happy with my previous interconnects and wasn't looking for new ones. But I was intrigued by Darwin Cables. It can be hard as an audiophile to be content with your system but I felt, after 4 years of buying and selling, (and losing a lot of money in the process) I'd gotten to the point that everything was to my liking. My measurement of how good my setup isn't based on PRaT (Pace, Rhythm and Timing) and soundstage and detail and etc. It's how much I want to listen to it (4 years ago, it was a couple minutes a day, each day hoping that my system didn't sound as bad as I remembered. It usually did). Thanks to your interconnects, in the last week I've more than doubled the amount of time I've been listening, putting off a lot of other things I should be doing! Now when hitting play each day, my memory doesn't do justice to how good it sounds. Thanks for such an unexpectedly amazing interconnect at a very affordable price in this potentially bank-breaking hobby! Wish I had it 4 years ago."—Landis Davidson, PA
"In 30 seconds I Could Tell"
"It's a remarkable product you've got there. In 30 seconds I could tell. The Darwin Silver IC is really something. I am impressed and will be spreading the word. I am hearing details I didn't know were there. Thanks a lot! Now I'll go back to listening." —Bruce Loebach, SD
"I Felt Closer to the Music"
"I have had a chance to sit and listen to my system with your Darwin Silver interconnects. Let me just say that the improvement was . . . well, tremendous and immediately noticeable! It was as if there were a thin layer of plastic covering my music which was removed by the interconnects. The change, if I can sum it up, would be: clearer and closer to real. I also think I got a little more bass and soundstage extension, but I know I just felt closer to the music (if that makes sense). I have to thank you for making such a wonderful product."
—Eric Warshaw
"Wider, Taller Soundstage"
"…Wider and taller soundstage, greater clarity and sense of depth, dynamics improved and speedier, tighter bass, instruments and voices now have more air and body…" —Highstream, Audiogon
"Simply more Lifelike"


"I got the Darwin Silver digital cable yesterday, and stayed up late listening. I am extremely pleased. It is in no way harsh, and a certain muddling or mild fog is gone… The overall sound is simply more lifelike. Now the only problem is I want two sets of your interconnects! I can only imagine how incredible my system will sound with all of the interconnects being Darwin." —John M.
"Hear what you've been missing..." 
The first audible difference I detected in the Darwin Silver II was that high frequency detail is retained without sounding shrill or strident. High frequencies are no longer 'edgy'. As my debut progressed, I found myself segueing between "Oh, so that is how that musical passage  sounds" and "Wait! Where did that guitar (or other musical instrument) come from?" You think you have a good audio system until you hear what is missing. Darwin Cables have provided the market with leading edge design and execution, and yet have priced their products within the budgetary realm of us civilians. It is truly Bill and Tony's world, and we just live in it. Thank you, gentlemen." —David Cleary, Oregon
"My high End Cables Got Smoked!"
"
I first listened to a couple of tracks from Jeff Lorber latest album. I used the original cables hooked between the OPPO player and Anthem Preamp Processor to get my ears calibrated. After I thought my ears were calibrated, I hooked the Darwin Silver Cables up, sat in the sweet spot and turned the system back on. It was a night and day difference. My high end cables got smoked! Man, I did not know that changing to these cables would make such a difference. Again it was no contest; the Darwin Cables are a no brainer. They give more detail. You can hear more of the music." 
—Andrew Trusty, Utah
"Price/Performance Ratio is Insane!"
"I've used very expensive cables in the past from reputable manufacturers including sets that cost nearly triple the price of the Darwin Cables. (With the Darwin Cables) I was expecting, or hoping for a little improvement. Instead, I got what I call "Autofocus". "Dull and foggy" sound gone. "Air" was now present. Everything just seemed to become clearer, like a fog had been lifted, or a curtain lifted from in front of the speakers. Clarity, oh how I missed thee. I can easily discern that etched twang of metal strings on an acoustic guitar like in the Eagles "Hell Freezes Over" CD. A singer's sharp intake of breath can easily be heard, and brings a grin to my face. The cellos in the opening of We are the Fallen's "I am Only One" sounded very real and full of texture that you could almost feel. I could hear the friction of the bow on the strings. If you have a system that needs a jolt of clarity, and some more air up there, then these cables could be right up your alley. They worked for me, and saved me from rotating amps in an out trying to solve an issue that was no fault of the amp itself. The price/performance ratio of these cables is INSANE."
—Erich Schweikert, Audio Sales Consultant
"Amazed by Darwin Silver Phono Cable" 
"Just wanted to let you know that I received the Darwin Silver II phono and am amazed by the improvement in sound in my system. The hum is gone and everything sounds better…In fact, I'm so impressed that I want to start selling off my current ICs and power cords to transition to an all Darwin system." —Andrew Maixner, Bozeman, MT
Audio Industry Professional: "Best I've Ever Used!"
"Twenty three years in the business and the Darwin Silver cable is the best I've ever used. I just hear more."
—Tom Tysver, Audio/Video Sales Mgr, Eggers Audio, Bismarck, ND

"Could Not Have Been More Delighted!"
"I was amazed at the results! The imaging was much improved and the soundstage gained in width and depth I had never heard from my mix of components. I could much more easily discern separate voices in harmony. Percussion instruments were much more distinguishable. The tonal quality of vocals was greatly enhanced. Previously, vocals seemed to radiate from the tweeter, more so. With the new cable vocals gained a new richness without sounding as they were squeezed out of the tweeter. Gone was the blurring effect. Vocals are much larger and less throaty if that make sense? I could not have been more delighted. It has to be the air gap and the non-conductive or insulating character of the Teflon that contributes to these results. Regardless, the end result is paramount."
—Tim Preston
 
"Superior To Other Cables!"
"The very first thing I noticed once the Darwin Cables were installed in my reference system was a reduction in the noise floor… blackness or darkness. To my ears, the instrument that makes or breaks a sound system is the piano. If the piano sounds good on a particular system, I find that it will sound good with most instruments. This is of course recording dependent, but the piano selections I played seemed to be more vibrant, much like a splash of color on a previously blank canvas. Individual notes were easily distinguished without background noise to smear the playback. The image and soundstage of the Darwin Cables is impressive. In listening to my selections, I was surprised to find that I was more easily locating the positions of each instrument, to the point of closing my eyes and actually pointing them out in the air, something I never felt inclined or able to do before the installation of the Darwin Cables. Dynamics are another strong suit. The low end is neither fat nor lean, but pleasantly robust in nature. The top end is bright and clean without being sibilant, while the midrange easily keeps pace rounding out a very neutral sounding cable. These are all of the ways in which the Darwin Cable is superior to the other cables I have used. The Darwin Cable easily trounced the cables I had previously believed were 'good'." — Hudson Kucera, PA
 
"Even My Wife Heard The Difference!"
"For years and years my wife Penny has told me more than once that all of this audio stuff I buy doesn't improve the sounds even a token amount. Not so fast this time, I played a couple of tracks from the Eagles Hell freezes over DVD; out with the old-in with the new ICs; replaying the same tracks with no other changes. Penny couldn't believe her ears, she could hear many more instruments and they were clearer, much more spatial with a broader sound stage. So, my friend. Good job." —Terry M.

"After a Home Audition My Friend Ordered a Pair, Too"
I am really amazed by the performance of these Darwin Silver cables. They look and feel so light but they immediately transformed my audio system. I plan to replace all my cables with Darwins. After a home audition, my friend ordered a pair, too. —Bernard Nadeau, France